I'm really bad at schedules sometimes. I'm sorry about that. I promise to do better in the future.
Here's a cute picture of my dogs and my feet to make up for it: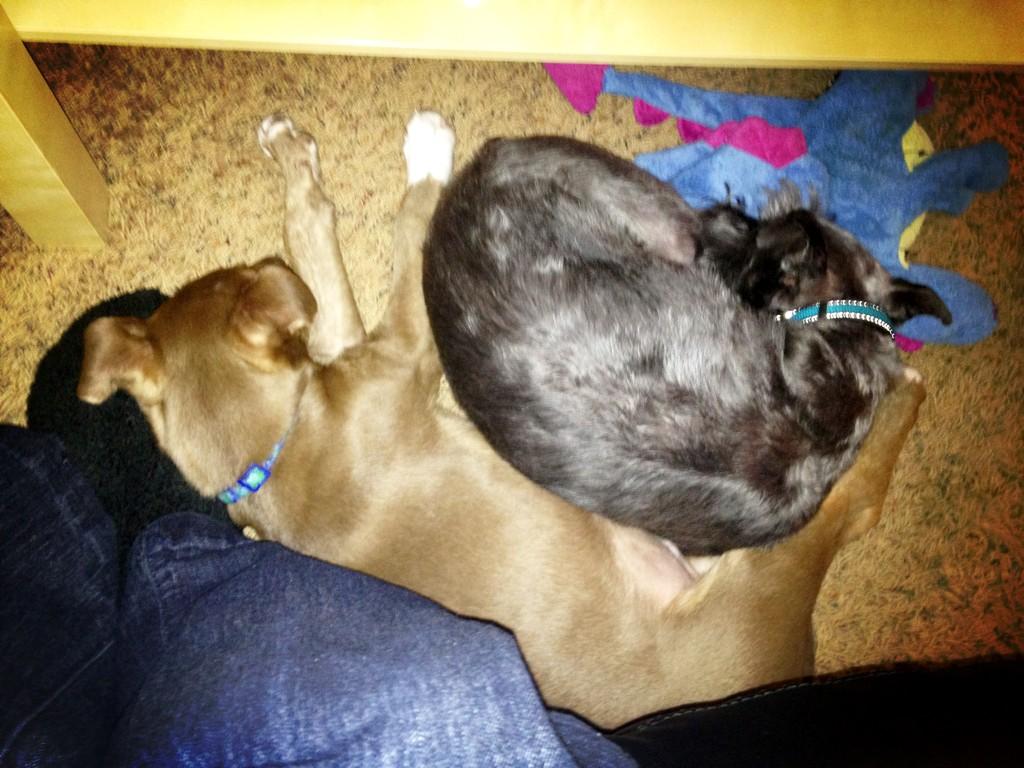 OKAY back to my review of some classics!
The Giver
Links: Author Page, Amazon, Goodreads.com, Barnes & Noble
I read the first half of the Giver when I was in 7th or 8th grade and never finished it (I'd borrowed it from a friend) but this year, I decided to buy and finish it. My thoughts? It's great… surprisingly small (I remember it being thicker…). I loved it. It's dystopia back before dystopias were the *thing.* I really enjoy the characters, the world Lowry built, and the message she's sending. If any book is Brave New World for kids, this is it. It's got the same homogeneity of BNW which leads to the same message, as before mentioned, that constant happiness relies on removing our sense of individuality and in part our sense of humanity.
I highly recommend The Giver. It makes you rethink your memories, your place in society, and your own happiness.
To Kill A Mockingbird
Links: Author Page, Amazon, Goodreads.com, Barnes & Noble
I love TKAM and that's not because I've spent over 12 weeks teaching it to ninth and tenth graders (actually, DESPITE spending 12 weeks talking about TKAM with teenagers I still love it–that's no small feat).
Harper Lee is a wordsmith, she's truly amazing at the written word. She's also a genius at plot–everything ties together, it all works together, this is one of the greatest novels ever written in my opinion. This is a prime example of how to write a novel. I personally am using her description of Maycomb as inspiration for describing New London in my own novel. That is probably not the last time I'll use TKAM as inspiration.
I first read this when I was about a year out of college because I saw the above cover and got interested. I never read it in high school so I had no clue what I was in for. I fell in love. Scout is me, Jem my brother. We grew up just like these kids (though 60 years in the future) with similar experiences (especially that snowman thing). When I re-read it this fall, I fell in love with the writing. Lee's writing is just… impeccable. No word is wasted in this novel. I only wish I could write one novel like that.
If you haven't read TKAM, do so.
Joy Luck Club
Links: Author Page, Amazon, Goodreads.com, Barnes & Noble
I picked up Joy Luck Club because it's a commonly taught novel in the high school classroom. I devoured it in short order. It's a series of stories that admittedly I need to read again to get them straight BUT the stories flow together in the same way a family does–in confusing swirls and sworls. Though the characters are friends, friends can and are family too. Tan jumps from the POV of second generation Chinese women living in California and women living or escaping China.
I probably will re-read this again in the next few years, may even send it off to my mother to read. It's probably the kind of book labeled chick lit but it's good. It's about family and especially about the mother/daughter relationship. I recommend it. I'm curious if any guys out there have read it and what their thoughts are.
One Day in the Life of Ivan Denisovich
Links: Author Page, Amazon, Goodreads.com, Barnes & Noble
One Day is another book I read because it was being used in the high school classroom. It took me a few starts to get moving along in this book but it's a really interesting read once you do get into it. It is quite literally on day in the life of Ivan Denisovich and Denisovich is a prisoner in the Russian Gulag. As someone with a literary background, this book is right up my alley because nothing REALLY happens but everything happens.
Goodreads claims the book is only 176 pages long, but I think that can't possibly be right… I remember something like 115 so it's a quick read.
This is one of my favorite ways to learn history–reading novels from people who lived through historic moments and chose to share their lives with us. It's the most essential function of literature and to me it's no surprise Solzhnitsyn won the Nobel Prize for Literature–he put his life in danger publishing this and lived through hell to get the experience required to do the story of the Gulag justice.
I recommend this for anyone who doesn't mind a book that doesn't go anywhere or likes history.
That's all for today! I'm going to work on Monday's post so it goes up right away! Please let me know if you've read these books and what your thoughts are! I'm curious about my readers.